This small town on the Mississippi River is steeped in history, and the Vicksburg Civil War Museum is a place chronicling and preserving the past. This unique museum is owned by Charles Pendleton—the first African American to own a Civil War Museum. There's plenty to discover about the American Civil War, particularly the campaign, siege, and defense of Vicksburg during these troubled times in the late 1800s—but you'll also get an unprecedented look inside Black history within the Civil War era, highlighting the bravery and contributions of Black soldiers, freedmen, and abolitionists.
History buffs love exploring here: From the Vicksburg Civil War Museum and the Vicksburg National Military Park to the USS Cairo Gunboat Museum and the historic home tours, there's no shortage of American memorabilia, interesting stories, and connections to the past. The Vicksburg Civil War Museum is a particularly special place to find out more about all the men and women involved in this struggle and offers a more inclusive perspective into the past.
For those intrigued by the stories of our southern history, our Bed and Breakfast in Vicksburg MS serves as the perfect home base for your stay. Oak Hall B&B is a modern take on traditional bed-and-breakfast-style lodging, located in a historic Fannie Willis Johnson Home built in 1910. It's been lovingly restored, maintaining its old-world charm and stunning stained glass windows, while our elegant guest rooms have all the modern amenities for comfort and relaxation. Start planning your next visit to the Vicksburg Civil War Museum, and get your reservation on the books today!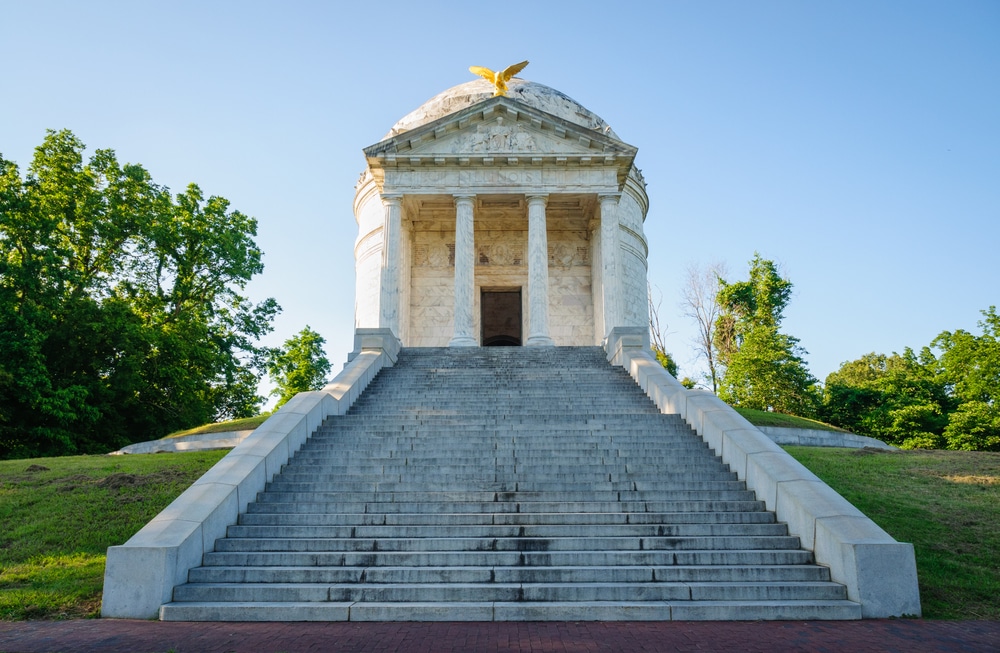 Visit the Vicksburg Civil War Museum & More Historical Sights
There are so many fantastic things to do in Vicksburg, especially for scholars, military enthusiasts, and historians. The Vicksburg Civil War Museum is a great place to start! Then you can stroll the charming downtown streets and riverfront and head out to explore more.
There's so much more to explore in Vicksburg, from live music at the riverfront casinos and rooftop bars to charming boutiques and walking tours; you'll find plenty to fill your time on your next getaway to our charming town on the Mississippi River.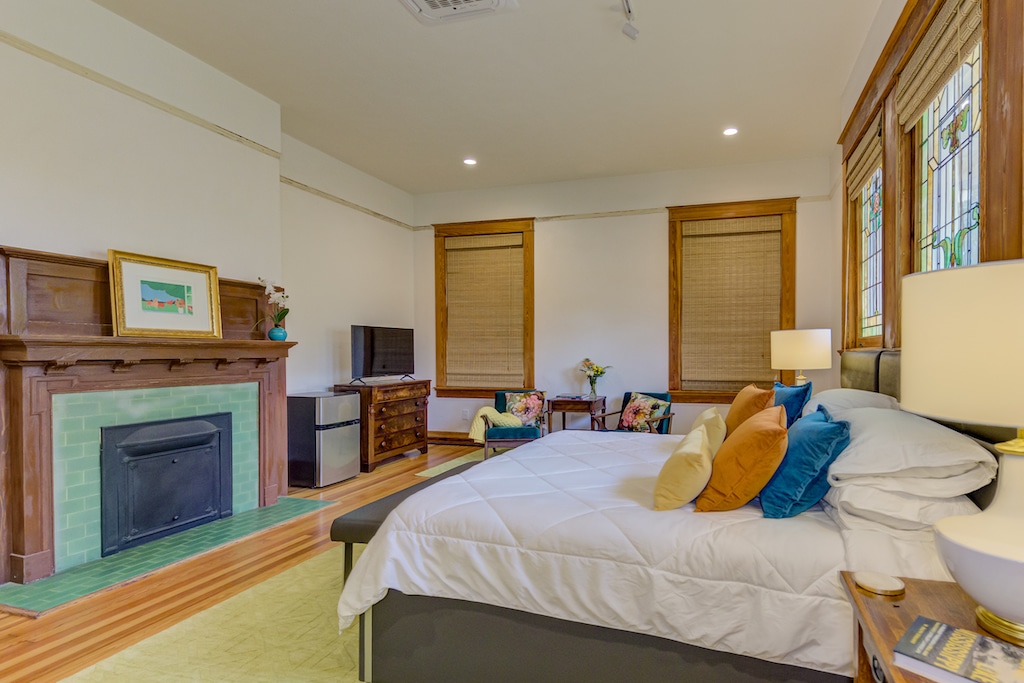 Elegant Lodging at our Bed and Breakfast in Vicksburg MS
Oak Hall is a premier Bed and Breakfast in Vicksburg MS for a restful and relaxing getaway! We're in the ideal location in the Historic Fostoria neighborhood near downtown, walkable to the best things to do, including the Vicksburg Civil War Museum, the best restaurants, bars, and so much more.
The Fannie Suite (pictured above) is a spacious room with balcony access shared with the Louis Suite, so it is ideal for two couples to book in tandem. You'll love the private bathroom with a claw-foot soaking tub, the California King bed, the filtered light from the stained glass windows, and the modern conveniences like a smart TV, wi-fi, and air conditioning.
Take advantage of our butler's pantry each morning for light breakfast fare, hot coffee, teas, and juice. Enjoy your meal on the extensive porch or one of our classic sitting rooms. One thing that sets our Bed and Breakfast in Vicksburg MS apart is our warm and welcoming hospitality! Please feel free to ask your kind innkeeper for personalized recommendations and requests. Make your reservation today!