There's a fantastic collection of historic houses to tour in Vicksburg, MS, but one of our favorites to visit during the fall is the McRaven House—mainly for the eerie candlelit tours and ghost stories. The McRaven House was built by Andrew Glass in 1797; he was scheming and robbing people traveling along the Natchez Trail and used this residence as his hideout. After Glass passed away suddenly in the house, spooky stories began to circulate about hauntings—and these tales continue today!
Over the following years, The McRaven House changed ownership and was expanded, going from a two-room cottage to a Greek Revival-style mansion with multiple rooms; there are still remnants of the original construction and antique appointments. On a historical tour, you'll hear all of the best stories accumulated over its long history and maybe even have a supernatural sighting for yourself. For the very brave, they even host "ghost hunting" tours where you can stay as late as 2 a.m. and use their instruments to detect atmospheric changes.
The McRaven House is just one of the many old homes open to the public for tours in Vicksburg. And for those who would like to experience one of these historic homes, our Vicksburg MS Bed and Breakfast is one of the best places to stay! Our 1910 Fannie Willis Johnson home was designed in the Mission-Revival Style with 32 stunning stained glass windows, woodwork, and beautifully restored architectural details that create the feeling of stepping back into time. However, your spacious guest room is equipped with all the needed modern amenities to relax and reset. We can't wait to host you at Oak Hall; book your room today!
Tour the McRaven House & More Historic Homes this Fall
Stepping inside any of Vicksburg's historic home tours is a timeless experience. These exquisite structures vary in age, with the older built in the late 1700s and the most recently constructed in the post-Civil War era, reminiscent of Victorian America's design influences. The McRaven House tour is a must for eerie stories and a spine-tingling evening on a ghost hunt during the fall months.
Here are the most popular historic home tours in Vicksburg to include on your next visit:
Find a full list of all the historic home tours in Vicksburg here!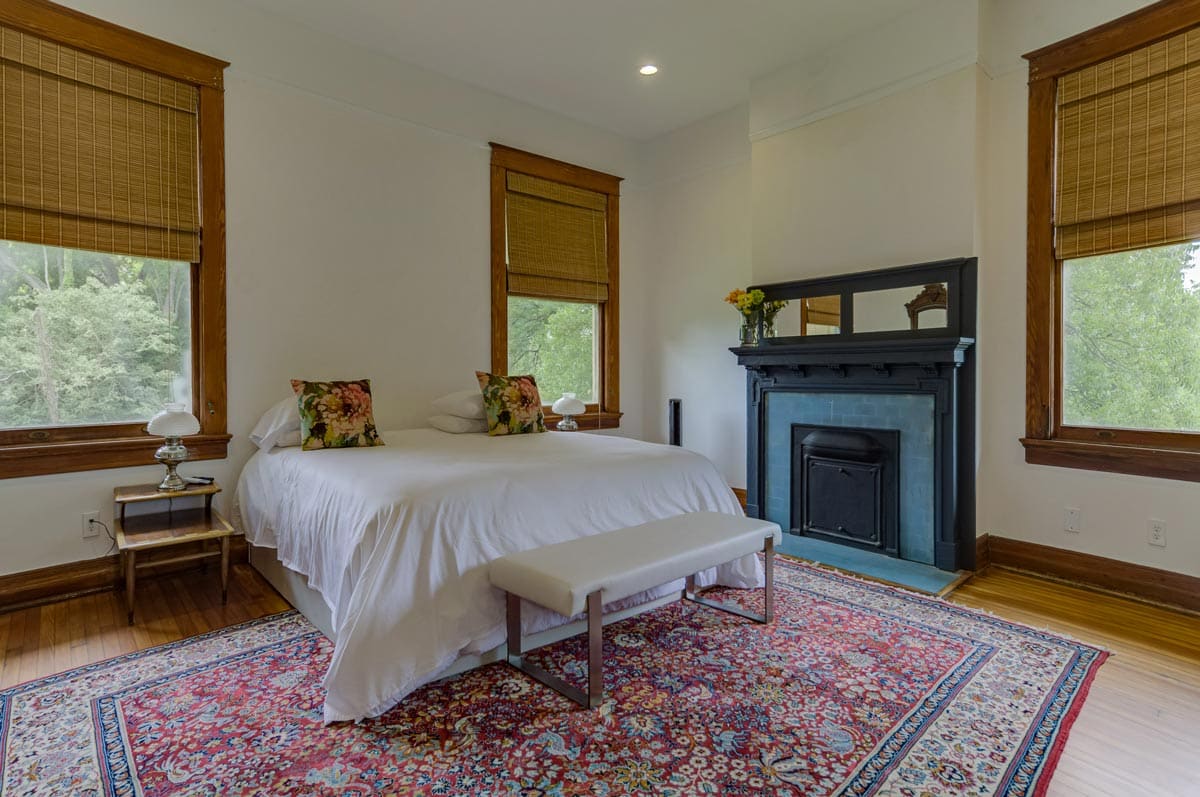 The Best Vicksburg MS Bed and Breakfast for a Fall Getaway
Our charming small town on the Mississippi River is the perfect destination for history buffs, and touring the McRaven House this fall is a must! Better yet, when you stay at our luxurious Vicksb,urg MS Bed and Breakfast, you'll be immersed in the historic ambiance of the Old South. Our Inn is a Fannie Willis Johnson Home built in 1910 in the Mission Revival style, creating the perfect blend of fascinating architecture with modern appointments and luxurious amenities. We also offer historical tours of our house, where you'll learn more about the area.
Each of our expansive private suites, spanning 300+ square feet, features a snug sitting area and a California king-size platform bed with premium hotel bedding. Enjoy modern amenities,ies including an en suite bathroom, LG smart flat-screen TV, high-speed Wi-Fi, Keurig Coffee Makers, microwave, and mini fridge. Guest rooms are beautifully appointed with tasteful furnishings and clean lines.
In the mornings, take advantage of our fully stocked "butler's pantry" for light breakfast fare. Enjoy a steaming cup of hot coffee on the front porch and take in the peaceful scenes of our quite historic neighborhood. You'll be in the ideal location to explore all the best things to do in downtown Vicksburg and visit the world-renowned Vicksburg National Military Park. Start planning your next fall getaway, and book your room today!