For those seeking to connect with nature during their time in Vicksburg, MS, the Mississippi Petrified Forest is a relatively quick and scenic drive. It's thought that this forest was formed over 36 million years ago when fir and maple logs washed down an ancient river channel and petrified over the centuries. It's one of only two petrified forests in the eastern United States—the other is in New York.
The Mississippi Petrified Forest is known for its unique collection of petrified wood, which is ancient wood that has been turned into stone through a process called mineralization. The forest is situated on privately owned land but was kindly opened to the public by RJ "Bob" and Shirl Schabilion in 1962 and remains a popular destination to this day. The majority of reviews on TripAdvisor for the Mississippi Petrified Forest are rated five stars, and the gift shop is an excellent stop for a unique collection of souvenirs—including fossils and jewelry.
This area of central Mississippi offers visitors many great activities, whether to explore outdoors, enjoy hearty cuisine, or sit back and relax. Whatever you envision for your trip, our bed and breakfast in Vicksburg, MS, is a fantastic place to make your overnight lodging. Our charming small town is a bit off-the-beaten-path, but this only adds to the feeling of truly disconnecting and getting away from our day-to-day schedule. As a guest at Oak Hall, you'll have a private and elegant room to make your home away from home. Get your lodging on the books today!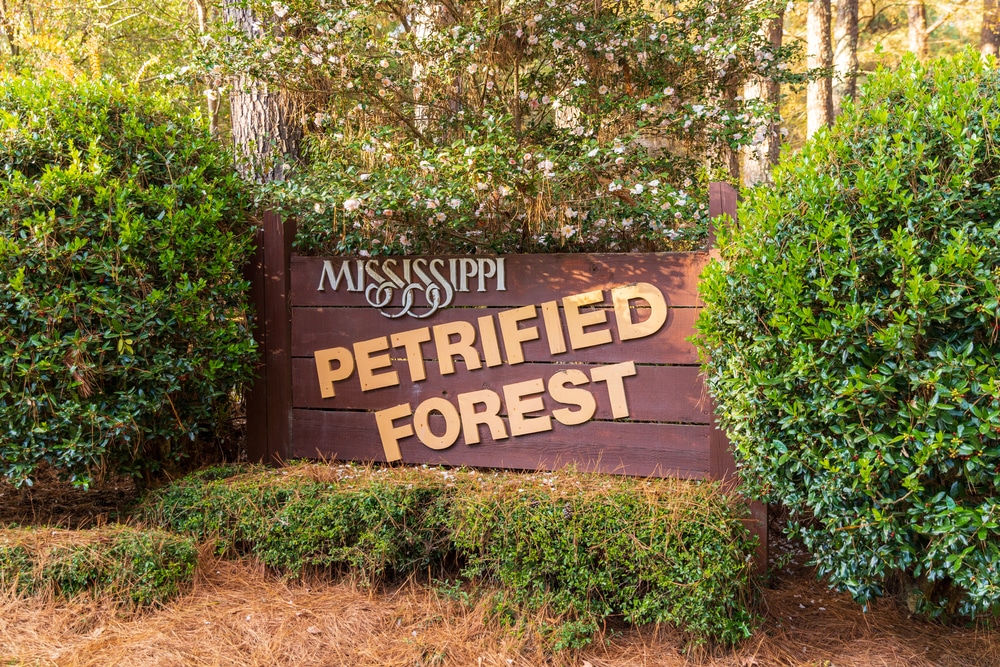 The Mississippi Petrified Forest & More Places to Get Outdoors this Fall
As a guest at our bed and breakfast in Vicksburg, MS, you'll be under an hour's drive to the Mississippi Petrified Forest. Once there you'll stretch your legs on the nature trail and find treasures in the gift shop. Along your drive, you'll see some beautiful fall colors!
Here's what to expect at the Mississippi Petrified Forest:
Hit the Nature Trail: This trail is a leisurely half-mile walk among these ancient logs. The trail weaves by these fascinating petrified specimens, some close enough to touch! Follow the plaques with interesting tidbits of history and information on the flora and fauna. The path is wide and accessible.
Get a Picture of the Caveman's Log: You'll pass by this giant example of one of the petrified logs. Take a seat and grab a shot for your Instagram story.
Explore the Earth Science Museum: Explore a comprehensive map featuring examples of petrified wood found across the entire world. The map showcases plant life throughout different ages, including various leaves, fruits, cones, and bark. Additionally, you'll see samples of fossilized wood that have been identified by tree species. Several other types of fossils are on display, such as dinosaur footprints, whale bones, and turtle shells.
Gem Mining Flume: Connect with your inner geologist and try your hand at the mining station. You can filter the rocky soil and look for treasures.
Mississippi Petrified Forest Gift Shop: This is a fantastic stop to find unique and interesting souvenirs to commemorate your trip to the Mississippi Petrified Forest. There is beautiful handmade jewelry made right on-site!
Get Outdoors at the Vicksburg National Military Park:
If you'd rather stay closer to our bed and breakfast in Vicksburg, MS, during your stay, the Vicksburg National Military Park has a fantastic hiking trail! The Tour Road offers up to 16 miles of pedestrian experience. There are walking loops that range from 3 miles to the full length on paved pathways, ideal for walking or biking. For those up for the challenge, Al Scheller Hiking Trail follows a more physically demanding route through the interior sections of the park.
We also love to suggest the Vicksburg Historic Trail, a 4.9-mile loop trail that heads through the historic downtown area with plaques offering insights and tidbits on the area. You'll pass by historic structures and be sure to make it to the Catfish Row Art Park with murals of colorful vignettes of the city's history.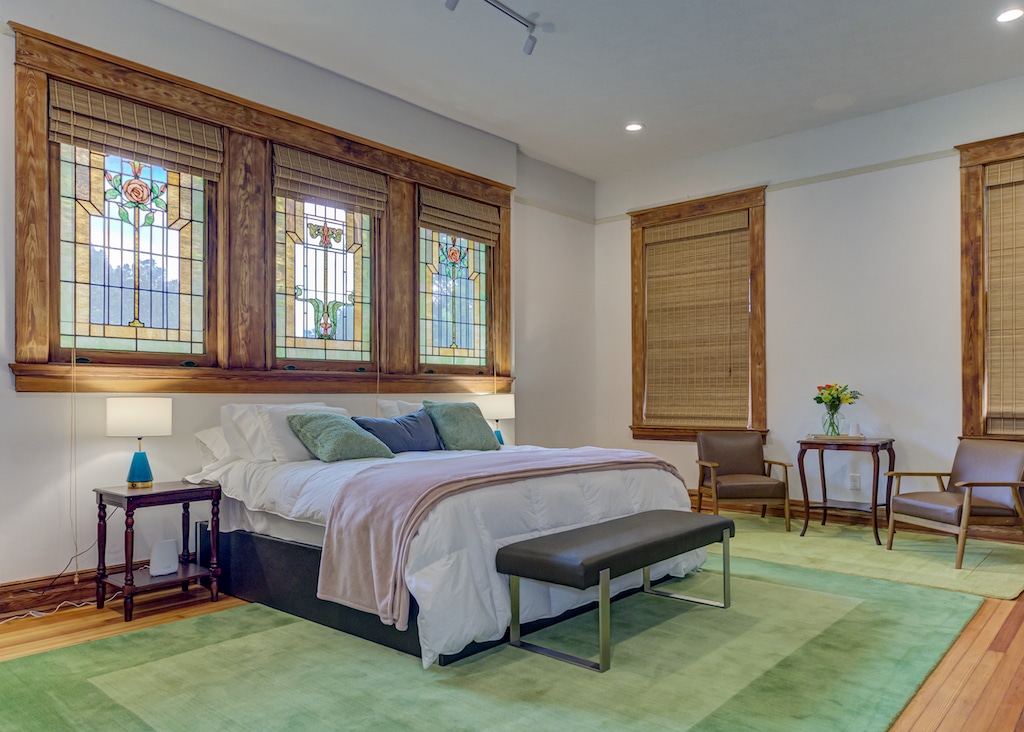 A Restful Stay at our Bed and Breakfast in Vicksburg, MS
For those looking to reconnect with nature at the Mississippi Petrified Forest or just escape their daily routine for a few days, our bed and breakfast in Vicksburg, MS, is the perfect destination. Our beautiful historic Fannie Willis Johnson home is an impressive backdrop with a Mission-gabled portico, cartouches, carved blocks over the columns, wide bracketed eaves, and stunning stained glass windows. Our modern and thoughtful decor creates the perfect combination of the past and present.
With only six guest suites (all spanning 300+ square feet), you'll often feel you have the space all to yourself, though it's not uncommon to see other guests interacting in the comfortable shared spaces or out on the expansive covered porch over coffee or a glass of wine. Back in your room, you'll find Beautyrest California king-size beds wrapped in luxurious hotel linens, a fully equipped en suite bathroom, and elegant decor.
We offer a long list of complimentary amenities, including free Wi-Fi throughout the Inn, smart TVs, parking, and a butler's pantry for light breakfast fare each morning. Perhaps the most essential element of your stay is our warm Southern hospitality; you'll be welcomed time and again to our bed and breakfast in Vicksburg, MS, with open arms. We can't wait to host you; make your reservation today!